E.G.POWER 2019 ~POWER to the DOME~ is the first and only joint tour of the E.G.family. It went from February 22 to May 25, 2019.
It was the first joint activity of the artists since E.G.family started on July 17, 2017 and since E-girls' live concert E-girls LIVE 2017 ~E.G.EVOLUTION~, held on July 15 and 16, 2017, which featured all artists of the line-up at that time.
An additional final concert of the tour at Pacifico Yokohama was added for May 25.[1]
The March 28 concert at NHK Hall was released in DVD/Blu-ray on July 24. An audio version of the same concert was released digitally on September 9, 2020.
Setlist
EG-ENERGY - E-girls
Keep on - E-girls
Anniversary!! - E-girls
LOVE - E-girls
Let's Feel High - E-girls
Show Time - E-girls
LOOK AT ME NOW - Sudannayuzuyully
OH BOY - Sudannayuzuyully
Party on the pizza - Sudannayuzuyully
TEN MADE TOBASO - Sudannayuzuyully
Try Everything - Dream Ami
Good Goodbye - Dream Ami
Hayaku Aitai - Dream Ami
Kurenai no Dress - Flower
Shirayukihime - Flower
Yasashisa de Afureru You ni - Flower
Suki Desuka? - Dream Shizuka and Washio Reina
Kanashimi Kara Hajimaru Monogatari - Dream Shizuka
Paper Dream - Dream Shizuka
POWER GIRLS - Happiness
Medley - Happiness

Holiday

NO MORE! - Happiness
Sexy Young Beautiful - Happiness
MC - Takebe Yuzuna
Cinderella Fit - E-girls
Follow Me - E-girls
HARAJUKU TIME BOMB - E-girls
Making Life! - E-girls
Y.M.C.A. (E-girls version) - E.G.family
I SHOULD BE SO LUCKY - E.G.family
Ureshii! Tanoshii! Daisuki! - E.G.family
-ENCORE-
Medley - E.G.family

Himawari - E.G.family
DVD/Blu-ray
E.G.POWER 2019 ~POWER to the DOME~ is a DVD/Blu-ray release of the E.G.family. It was released on July 24, 2019 in two types: 3DVD and 3Blu-ray, and in two editions: limited and regular. Limited edition include a special 100-page photobook.
Editions
Limited
3DVD (RZBD-86866~8, ¥6,980)
3Blu-ray (RZXD-86869~71, ¥7,980)
Regular
3DVD (RZBD-86872~4, ¥6,980)
3Blu-ray (RZXD-86875~7, ¥7,980)

Regular edition was sold after the limited editions got sold out.
Tracklist
Disc 1
Disc 2
Disc 3
Participating Members
Tour Dates
Date
City
Country
Venue
February 22, 2019
Osaka
Japan
ORIX THEATER
February 24, 2019
Kyoto
ROHM Theatre Kyoto Main Hall
March 1, 2019
Ishikawa
The Kanazawa Theatre
March 3, 2019
Nagano
Kissei Bunka Hall
(Matsumoto Culture Hall of Nagano Prefecture)
March 5, 2019
Tochigi
Utsunomiya City Culture Hall
March 9, 2019
Fukui
Fukui Phoenix Plaza Big Hall
March 14, 2019
Shizuoka
Shizuoka City Culture Hall
March 17, 2019
Mie
Mie Pref. Fine Arts Center Large Hall
March 22, 2019
Miyagi
SENDAI SUNPLAZA HALL
March 24, 2019
Yamagata
Yamagin Hall
(Yamagata Prefectural Hall)
March 27, 2019
Tokyo
NHK HALL
March 28, 2019
March 30, 2019
Yamanashi
Colany Bunka Hall
(Yamanashi Prefectural Citizen's Culture Hall)
April 2, 2019
Osaka
ORIX THEATER
April 3, 2019
April 5, 2019
Shiga
Biwako Hall Center for the Performing Arts, Shiga
April 6, 2019
Yamaguchi
SHUNAN-SHI-BUNKAKAIKAN
April 8, 2019
Hiroshima
Fukuyama Hall of Art & Culture Reed & Rose Large Hall
April 11, 2019
Ehime
Matsuyama Civic Hall
April 13, 2019
Iwate
Iwate Prefectural Hall
April 14, 2019
Aomori
Link Station Hall Aomori
(Aomori Bunka Kaikan)
April 16, 2019
Saitama
Kawaguchi Cultural Center Lilia
April 20, 2019
Saga
Saga City Cultural Hall
April 21, 2019
Oita
Oita iichiko Culture Center
April 24, 2019
Fukuoka
FUKUOKA SUNPALACE
April 25, 2019
May 7, 2019
Aichi
Nagoya Congress Center Century Hall
May 8, 2019
May 10, 2019
Chiba
Ichikawa City Cultural Hall Large Hall
May 11, 2019
May 17, 2019
Hokkaido
Sapporo Cultural Arts Theater hitaru
May 18, 2019
May 25, 2019
Kanagawa
Pacifico Yokohama National University Hall
5-week Releases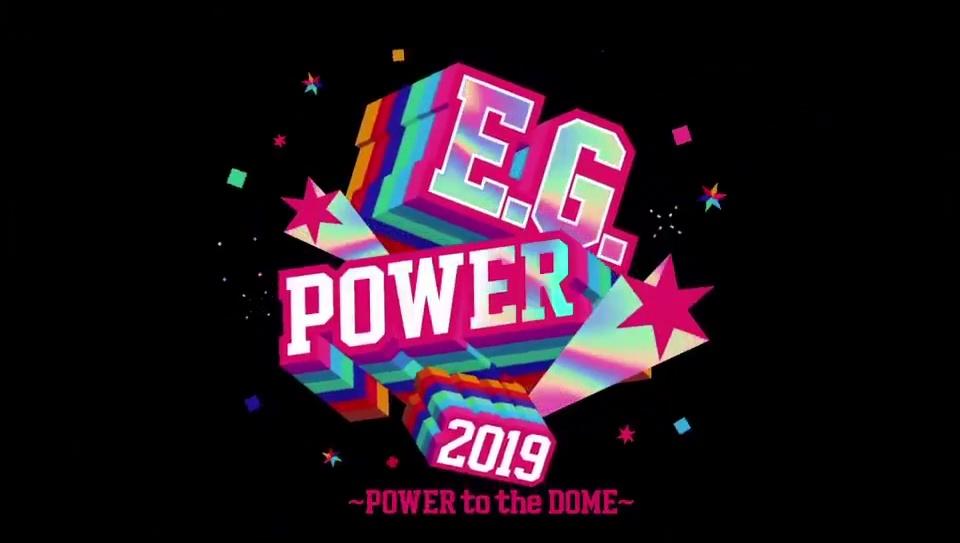 On December 18, 2018, it was announced that the E.G.family artists (except E-girls who already released their single prior to the announcement) would be releasing new songs digitally for 5 consecutive weeks prior to the start of the tour on February 22.[2] The schedule was the following:
Trivia
References
External Links
Community content is available under
CC-BY-SA
unless otherwise noted.