iScream (アイスクリーム) is a Japanese dance and vocal girl group formed and managed by LDH JAPAN and signed to LDH Records. All members were chosen from the LDH Presents THE GIRLS AUDITION held in 2018.
The trio made their major debut in June 2021 with the single "Maybe...YES EP".
Members
History
2020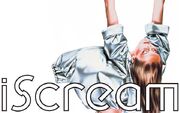 On February 1, at the first concert of E-girls' final tour E-girls PERFECT LIVE 2011▶2020, Yokoi Rui, Yamashita Yuna and Sato Hinata were introduced as 3 vocalists of LDH's new girl group "iScream".[1]
On September 27, it was announced that the group would sing the title song of an upcoming short film from the CINEMA FIGHTERS franchise directed by Kubo Shigeaki and starring Komori Hayato.
2021
On February 19, it was revealed that the three vocalists of the group would be in charge of the ending theme song titled "Maybe...YES" for the Amazon Prime Video drama Ochanigosu. starring Suzuki Nobuyuki.[2][3][4]
On March 5, it was announced that the group would make their major debut in June 2021 under the label LDH Records.[5][6][7][8]
On April 22, the debut date of the group with their first single "Maybe...YES EP" was announced as June 23, 2021. Additionally, the group pre-released the title song of the single digitally on June 1.[9][10][11]
On July 6, the group's first regular radio show titled "LAUGH & MUSIC ROOM ~iScream Voice~" started airing on FM Osaka every Tuesday at 5:30 am.[12][13]
On July 9, the documentary movie iScream Document Movie ~Scream Our Dreams~, which depicts the story of the members from their audition to the debut, started being distributed on iScream's official YouTube channel. While the first episode was released at 13:00 (1 pm), the following episodes would be released every Friday at 20:00 (8 pm).[12][13]
On August 11, they held their first online live concert titled iScream Debut Online LIVE Show Case, which was broadcasted live simultaneously on their YouTube channel and LDH's video distribution service CL.[12] During the show case, it was announced that they will release their second single "himawari" on September 3.[14][15][16]
2022
On January 14, the group released their third digital single "Tsutsumi Komu You ni...", a remake of MISIA's debut single released in 1998.[17][18][19]
In February, they became the first collaboration partner of "Sings", an original short video series by Rolling Stone Japan. The magazine selected Western songs that they wanted the group to sing and arranged them a cappella, with the theme of the songs changing every month.[20][21][22]
On April 20, the group will release their first album i.[23]
Discography
Concerts/Tours
Concerts
Tours Featured In
Concerts Featured In
Works
Filmography
Digital Shows
Radio
Trivia
References
External Links
Template:IScream